INSPIRE Conference 2023: Pioneering Inclusive Gender Equality in R&I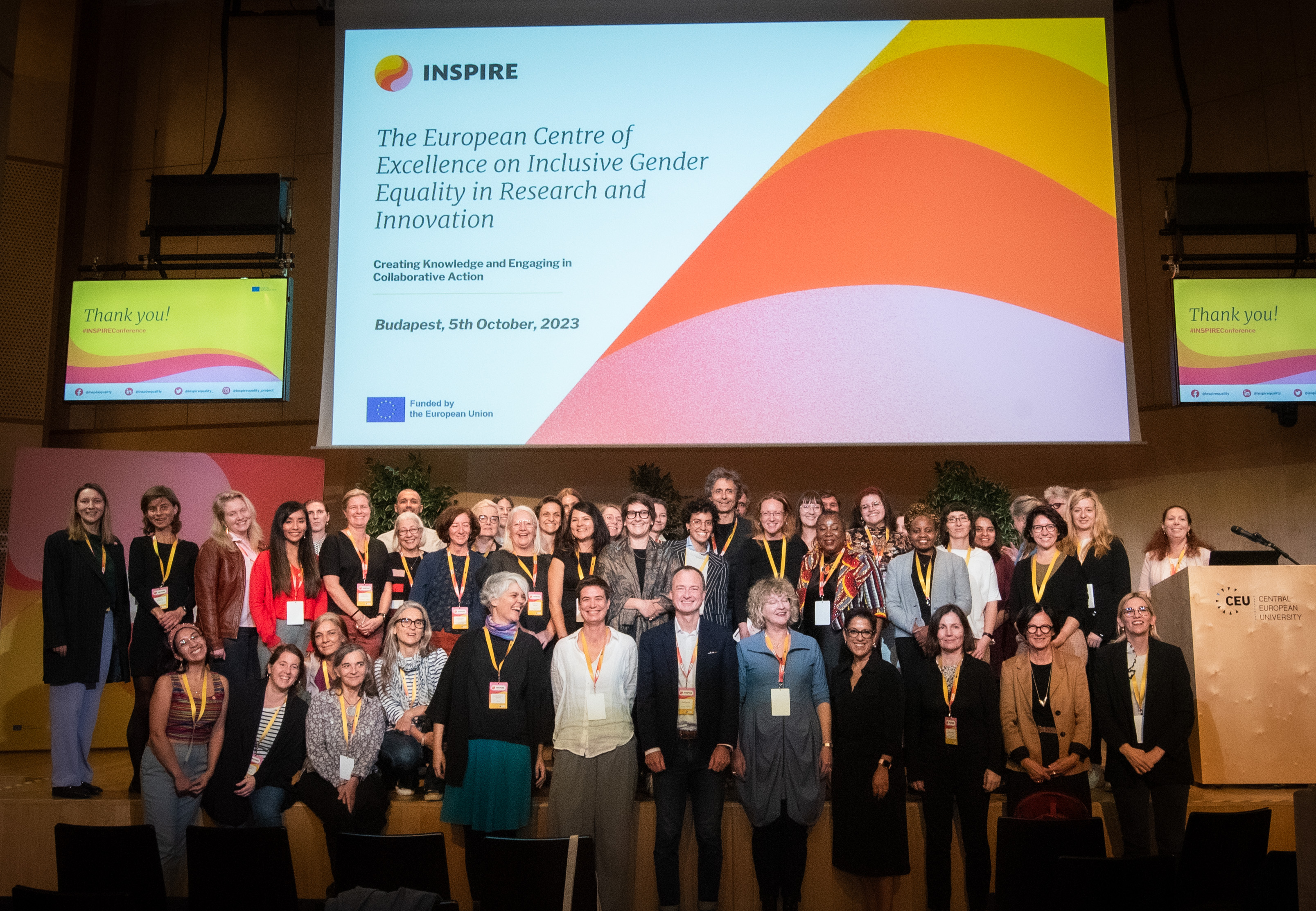 Earlier this month, the INSPIRE Conference in Budapest gathered more than 70 brilliant minds from around the world, coming together to dive into critical themes like gender equality, intersectionality, and Gender Equality Plans (GEPs). The event fostered knowledge sharing, synergy creation, and set a significant milestone for the INSPIRE project, outlining a clear trajectory for the future. 
INSPIRE: A Gateway for Inclusive Gender Equality 
INSPIRE stands as Europe's Centre of Excellence on inclusive gender equality in research and innovation, acting as a platform for innovative knowledge, innovative policies, and practices. This initiative provides the opportunity for scholars, equality experts, practitioners, and trainers to connect, share resources, and co-create new pathways for gender equality. 
The project's extensive research programme aims to develop crucial indicators for inclusive GEP development, conduct GEP monitoring surveys across Europe, and identify the necessary conditions for impactful GEPs. Addressing knowledge gaps on intersectionality and promising practices in gendered regional innovation policy is central to INSPIRE's mission. The project comprises four Knowledge & Support Hubs (KSHs), each lead by academics and practitioners, focusing on sustaining change, widening participation, intersectionality, and fostering innovation and change in the private sector. 
Highlights of the Dynamic INSPIRE Conference 
The conference journey began with a magical pre-event sailing the Danube, against the backdrop of Budapest, a city rich in history and innovation, setting the stage for lively discussions and deep-rooted insights, and defining the tone for an intense and insightful event.  
The inaugural session, led by INSPIRE coordinator Rachel Palmén, senior researcher from Universitat Oberta de Catalunya, marked the official beginning of the conference. Anne Pépin, Senior Policy Officer from the European Commission, followed with a talk on gender equality in research and innovation, sharing the European Commission's approach. 
The event continued with Heidi Zachariassen, Senior Adviser of the EU-Funded sister project GENDERACTIONplus, presenting key findings on intersectional policy in R&I throughout Europe, a truly relevant topic which resulted in engaging conversations around the complex intersection of gender and other societal dimensions. 
Dounia Bourabain, doctor in sociology from Universiteit Hasselt, introduced us to a critical perspective on "Tackling Sexism-Racism in Higher Education Institutions: A Crisis Perspective in GEPs and Beyond", while Professor Udy Archibong from the University of Bradford provided a profound exploration of GEPs through an intersectional lens, adding depth to the discussions. 
Inclusive GEPs roundtable discussions were a vibrant part of the event, delving into crucial questions such as where to start, who to include, and integrating the gender dimension into research content and innovations. The diversity of perspectives enriched these discussions, fueling ideas for practical implementation. 
The unveiling of the Knowledge & Support Hubs (KSHs) by esteemed researchers like Paola Chaves, Ewa Krzaklewska, Professor Patrizia Zanoni, and senior researchers Maria Karaulova and Florian Holzinger, all from renowned institutions, provided valuable insights into sustaining change, widening participation, intersectionality, and fostering innovation. 
The final session, graced by Policy Advisor Mateja Medlobi from the European Parliament and Scientific Director Dr. Janice Bailey from Fonds de recherche du Québec, provided a forward-looking glimpse into the next steps for INSPIRE.  
Finally, Rachel Palmén, shared insights on setting a proactive agenda for the future, leaving attendees inspired to keep contributing to this challenging but transformative journey. 
Launching New Communities of Practice 
A pivotal moment of the conference was the moment when Sybille Reidl from Joanneum Research announced the launch of the new Communities of Practice (CoPs), a call for proactive involvement and a chance to shape the future of gender equality in research and innovation.  
During the event, four working groups were created which focused on discussing thematic areas of the Knowledge & Support Hubs, setting the stage for future coactions, and fostering rich dialogues and newfound connections, resonating with the collaborative spirit of the event. These interactions added an extra layer of richness to the conference, as participants explored synergies and envisioned collaborative efforts for the future. 
Shaping the Future: Next Steps and Conclusions 
The INSPIRE Conference concluded with a forward-looking perspective, emphasizing the need to be proactive in effecting change. The participants highlighted the necessity for empirical evidence to drive meaningful transformations in a male-dominated scientific landscape. Discussions also centered around the importance of countering arguments against gender equality with a balanced and informed approach, advocating for the availability of research for the broader society. 
In conclusion, the INSPIRE Conference 2023 was a dynamic and enriching event, fostering meaningful discussions, inspiring ideas, and laying the foundation for a more equal and inclusive world. 
We extend our heartfelt gratitude to all the participants who contributed to this insightful event. Let's continue the hard work to drive change and create a more equal and inspiring world. Stay tuned for updates on the next steps, and let's keep up this momentum of gender equality in research and innovation.  
Together, we can make a difference! 
Author: Diego Ibáñez Rodríguez, Europa Media, INSPIRE partner & organiser of the conference